Jeff the Land Shark and Alligator Loki Assemble Super-Powered Pets for Infinity Paws
Infinity Paws is a new Infinity Comic launching on Marvel Unlimited in spring 2024.
Jeff the Land Shark, Alligator Loki, and more of your favorite super-powered pets will assemble for a new event series titled Infinity Paws. If you couldn't tell, the name is a callback to the iconic Infinity Gauntlet by Jim Starlin, George Perez, and Ron Lim. Fans of the Marvel Cinematic Universe got to see a version of this play out on the big screen in Avengers: Infinity War and Avengers: Endgame. Now it's time for a similar event to play out with fan-favorite animals like Jeff the Land Shark, Carol Danvers' feline companion Chewie, Alligator Loki, and Lucky the Pizza Dog.
Marvel announced Infinity Paws at its Next Big Thing panel at New York Comic Con over the weekend. Infinity Paws is a new Infinity Comic launching in spring 2024 on Marvel Unlimited, the publisher's digital subscription service. The upcoming event series is written by seasoned Infinity Comic creator Jason Loo (Lucky the Pizza Dog, X-Men Unlimited) and superstar artist and colorist Nao Fuji (Marvel Meow).
"Marvel Meow fans will be in for a treat! Or TREATS!" said Jason Loo. "Because we got almost all your favorite Marvel pets in this giant crossover, from the furry ones to the scaly ones. And I couldn't be more pleased to be joined by the delightfully talented Nao Fuji illustrating this series."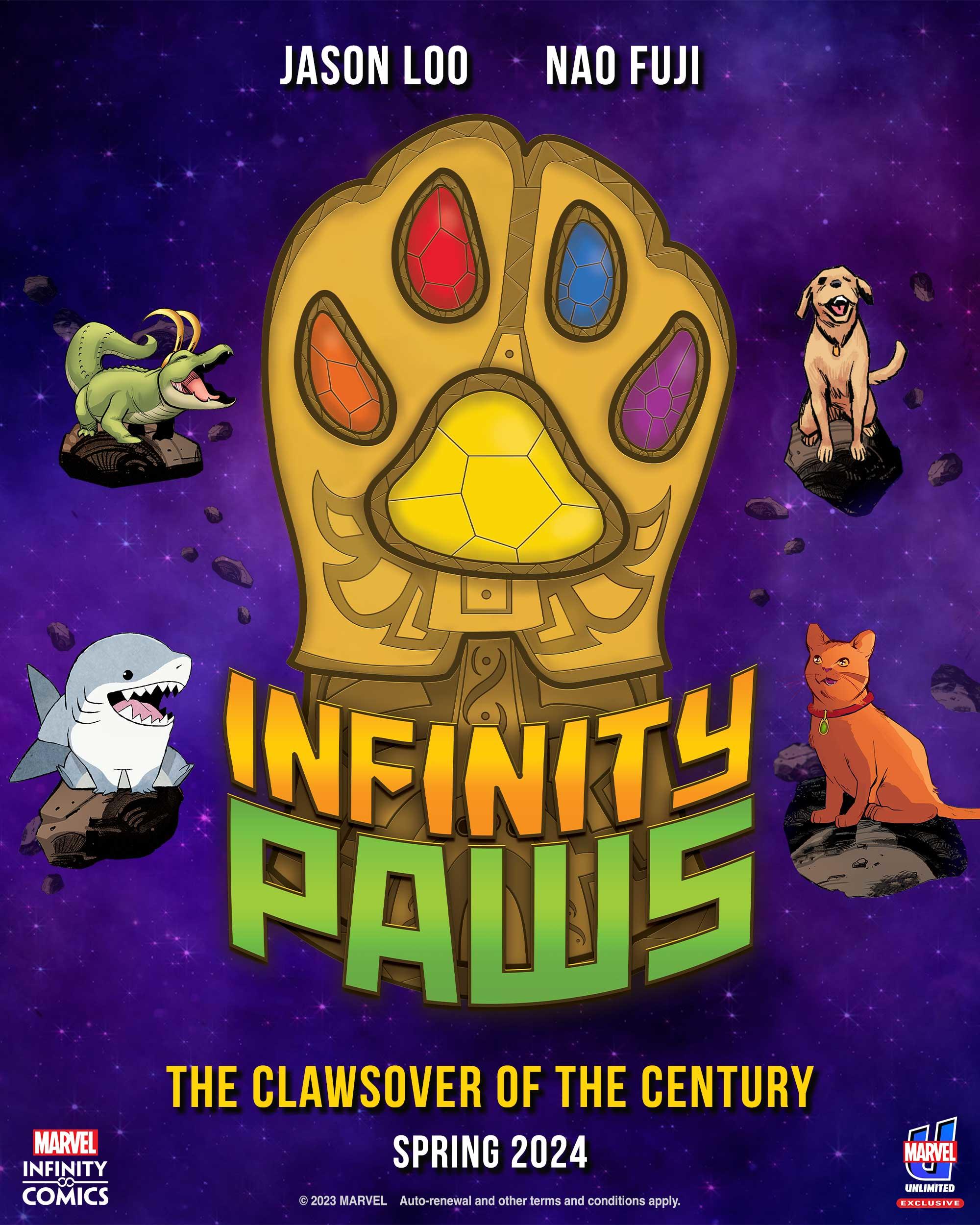 Marvel teases next crossover event Blood Hunt
Infinity Paws wasn't the only announcement to come out of New York Comic Con. Along with announcements for the Ultimate Universe and the end of the X-Men's Krakoa era was the reveal of Blood Hunt. It appears to be a vampire-themed event with the main series written by Moon Knight, Avengers, and Doctor Strange writer Jed MacKay with art by Pepe Larraz and Marte Gracia.
"We have vampires in our books all the time, there's some bad blood there," MacKay said at New York Comic Con. "What happens if the shoe was on the other foot? We've got the Avengers, Moon Knight's Midnight Mission, Doctor Strange, Miles Morales, and of course, Blade, and there's going to be more vampires you can shake a stick at."
The description of Blood Hunt reads, "Vampires have always walked amongst the shadows of the Marvel Universe, but in Spring 2024, the long night arrives and these bloodsucking terrors will endure the spotlight like never before," the publisher said of the title. "The main event series will be brought to life by an A-team of Marvel talent: current Avengers scribe Jed MacKay and acclaimed X-Men artists Pepe Larraz and Marte Gracia. In classic Marvel fashion, BLOOD HUNT will also spill out into a host of tie-in issues in Marvel's hottest current series and see the launch of all-new limited series, one-shots, and redefining status quos."
0
comments